Deer Under Motorcycle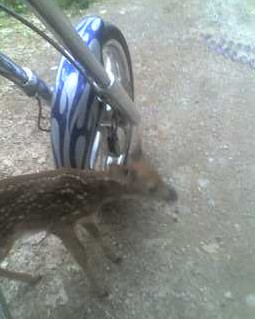 Sent in from Jenifer Gagnon:
This baby deer was laying in our driveway. My boyfriend was driving up the driveway on his motorcycle and spotted it laying down so he pulled up next to it. It then stood up and walked over to him smelled his hand, walked under the wheel of the bike and then slowly made his way in the woods but to the opposite side of his mother. Its mother was watching and blowing the entire time, but she just stood about 20 feet off the driveway.